I sit at an all white, wooden table in the back corner of an all white bar I tend to frequent. I look up, and my hazel eyes catch site of a stunning, overly detailed, Zac Posen dress. It looks back at me. I smile coyly. My eyes tell it what it knows, as it makes its way around the tight bar area, it catches other tell all glimpses, from other twentysomething women. 'I've seen you before', say my eyes with less of a spark then the first time around. 'I didn't think we'd see each other again.'
The re-wear. We're all victims. We go for a girls night out on the town, dressed to the nines. As the night ensues, we are sure to capture each and every moment on the camera – a way to remember our nights – and now, our outfits as well. Once the notification message hits our Blackberry Facebook Application, we know we are doomed; 'So and so has tagged you in 14 photos.' We breath in deep with the knowledge that we cannot wear said outfit for a long, long time.
This mentality of ours has to change ladies. Not only are we in a recession, but I remember a day in age (PFE: Pre Facebook Era), where it was ok to re-wear our $700 dress over and over, shuffling between different crews of friends on separate occasions, until each friend had seen it . But now, the first hour we wear something new, it's instantly sent to the back of the closet, almost as instantly as it's uploaded via Facebook Mobile. What happened to the good ol' days? The days where it was ok to wear that super comfy, perfect for a casual day plaid button up, without looking like we don't own any other clothes. These days, the only way we can seem to pull of the re-wear, is by saying no to pictures and saying yes to the recycling of our pride and joy, yes, that's right, re-wearing that outfit (over and over, and over).
Television has fallen prey to this new 'I can't wear this again' trend. I wonder if TV is mimicking us, or whether we are mimicking TV? Remember your favourite shows growing up? Full House, Growing Pains, Married With Children. The main characters recycled the same few outfits. Imagine Blair Waldorf and Serena van der Woodsen on Gossip Girl wearing the same outfit twice. It would be a disgrace. You follow? Something has changed, and something needs to change back (for the sake of bank accounts worldwide.)
I've definitely noticed the re-wear. Especially when it's a flashy little number like the Zac Posen dress referenced at the top of this page. What are your thoughts on the re-wear? Have you done it? Do you bite the bullet and wear your photographed outfit proud, or do you wear it with caution?
Lindsay Lohan
Heidi Montag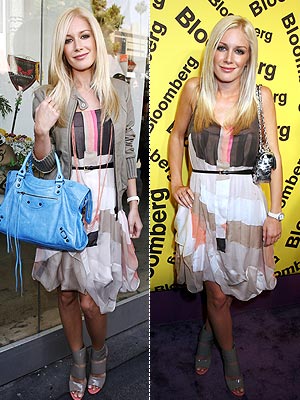 Hayden Panettiere
If celebs can do it, why can't we?
This past summer I followed my twentysomething mentally and took a number of vacations with close girlfriends. I embraced a lifestyle I've learned to love. While packing for these trips I couldn't resist a hot, little, Alexander Wang dress of mine. Though I wore it in the city on a special occasion, I figured I could get away with wearing it on a few vacations, since I wouldn't run into anyone I knew. I pulled it off and the compliments made me bring it on another vacation (how could I resist?) Wait, lets rephrase that. I thought I pulled it off. That is until last night when I was out for dinner with a girlfriend, who advised me not to wear that dress again, since the vacay pictures hit Facebook. (Um, where is the remove tag button?) 'But it was vacation!' said, as her brown as looked at me, a coy smile on her face.
With Halloween around the corner, I have friends both men (you know who you are) and women (yes, you), who have a great costume they spent x amount of dollars on last year, but fear the re-wear. It's been a year. At the end of the day, it comes down to confidence. As Paris Hilton, our fellow blonde bronzed twentysomething says, "No matter what a woman looks like, if she's confident, she's sexy."